There are many features related to the ARD that we will go over in this article: 1) Annual Review Date notifications, 2) Closing out goals after the ARD has passed, and 3) Logging goal progress in the past.
1) Annual Review Date Notifications
When your student's Annual Review Date is approaching, you'll see visual reminders to let you know ahead of time that it's coming up. You'll see this via a notification banner, a Countdown to ARD, and as a visual, color-coded number on the left student sidebar next to each student's profile picture. As your ARD approaches, the color will change, as will the "glow" around your student's profile picture.

2) Closing Out Goals After an ARD Passed
If your student's ARD has passed and you are ready to enter in next year's goals, you will see a pop-up when you select your student. This popup will prompt you to archive this year's goals, or archive and duplicate them (Option A). If your student's goals are a continuation of last year's efforts, then the latter option will save you time -- you can duplicate goals from this year, and then edit numbers to match the new goals you have for your student. Additionally, when you close out your goals, a pdf will be emailed to you automatically with all of last year's goals for your student, for your records.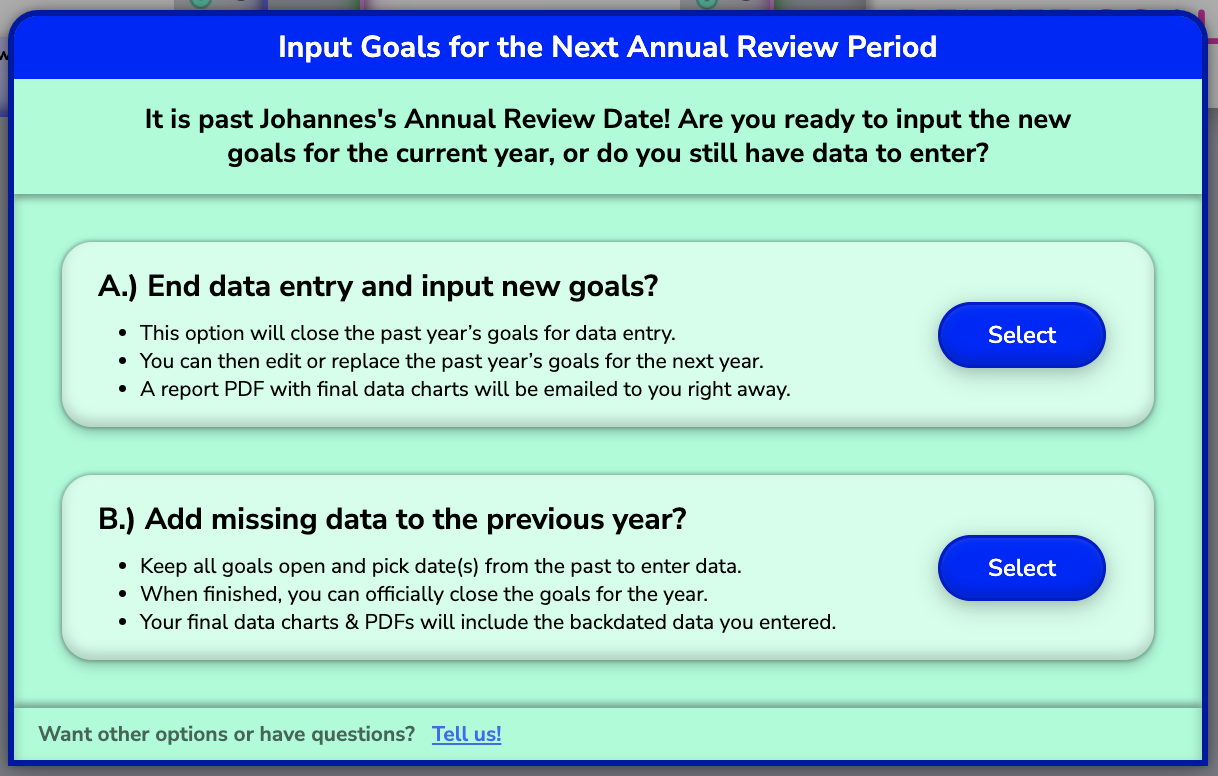 3) Logging Goal Progress in the Past
We know it isn't possible to always log goal progress in real-time. If you are wrapping up your student's goals and realize there was progress that hadn't yet been added to fastIEP, you can now select a date from the past to log data under prior to closing your goals by selecting "Option B" in the above popup. This data will be included in the final data charts and PDFs!
Still have questions? Email us at support@fastIEP.com -- we're here to help!