Are you ready to upload your previously collected IEP data into fastIEP and create a fully comprehensive student portfolio that is easily accessible, up-to-date, and with IEP goal progress summaries?
Now, you can enter IEP Events for your student's current plan in fastIEP and maintain a student portfolio. Comprehensive student portfolios are necessary for adequately monitoring a student's present levels and needs, as well as for monitoring growth and progress toward IEP goals.
Easily navigate through fastIEP to enter multiple backdated events and end observation periods in the "Backdated Data" mode to bring all reports up to date. All charts and tables will be automatically updated to reflect an accurate picture of a student's progress toward their IEP goals that can be easily shared with parents during IEP meetings, parent conferences, etc.
---
Is it easy to enter data in the "Backdated Data" Module?
Yes, and fastIEP provides multiple visual notifications and written prompts to guide you as you enter this data.
To begin, let's refer to the photo below and locate the embedded notifications that will provide you with information regarding the backdated data you enter into fastIEP: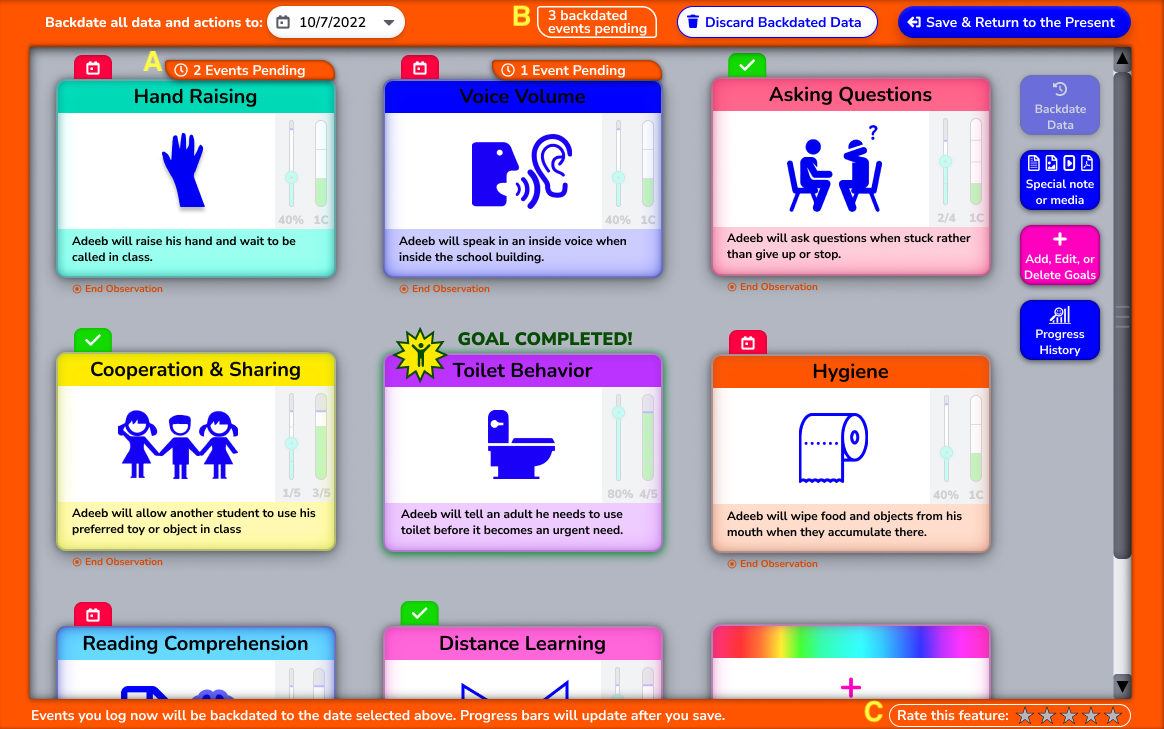 Pending Events for Each Goal
Each goal tile will have its own orange banner with the number of events pending to be committed to the past.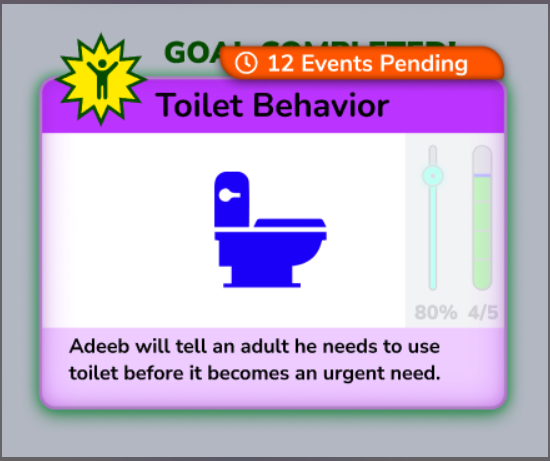 Total Pending Events
The total number of events pending to be committed to the past, for all goals. This is located on the top orange rectangular border.

Rating the Backdating Feature
Let us know your thoughts! All feedback is valuable and each rating star gives us immediate feedback! fastIEP aims to provide educators with a fast and easy way to monitor progress.

---
How does fastIEP guide me as I am entering data? What if I enter data incorrectly?
As you are entering the data, you might run into a pop-up that will notify you of what information is needed to be able to proceed. Each notification has a clear explanation and a description of how you can easily correct the error.
You Must Select a Date
You will see this notification if you attempt to enter backdated data without selecting a date first. After selecting the date, you can proceed with entering your data points. Remember, you can log events from different dates in the same session.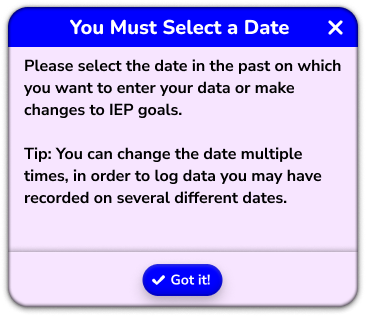 Cannot Edit Goals in Past
If you need to make an edit to a goal, you will need to exit the backdating data module to enter the present time. Once you are in the present time, you will be able to add, edit, or delete IEP goals. The revised goals will now appear in both present and backdate mode.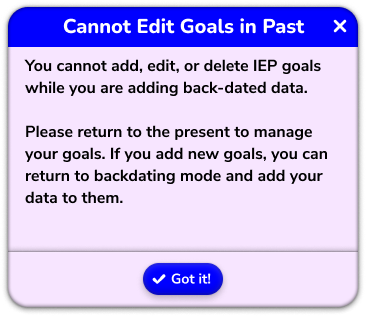 Date Selected is Before ARD
Backdated data can only be entered for IEP goals and objectives for the current IEP/ARD. If you attempt to select a date outside of the most recent IEP year, you will receive this notification. Re-select the date within this IEP year and you will be ready to enter your information.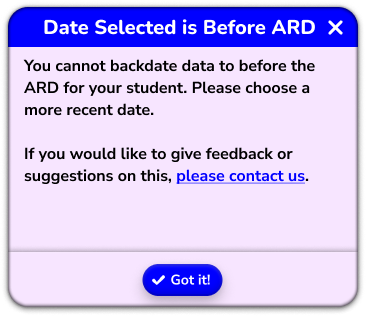 Cannot Backdate Before ARD
Backdated data can only be entered for IEP goals and objectives for the current IEP/ARD.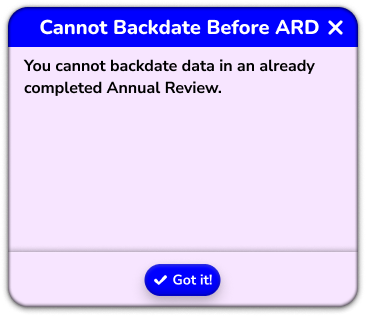 ---
I have entered all my backdated data. What should I do next?
Before exiting the backdated data screen, you will be prompted to select the "Discard Backdating Data" or "Save Backdating Data" button on the top banner.
Save Backdated Data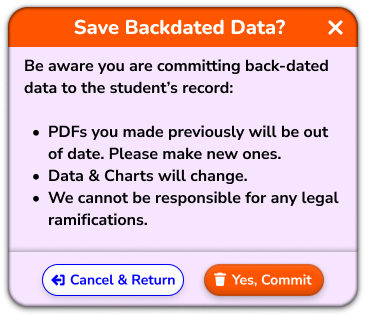 If you select the "Save Backdating Data" button, you will also need to acknowledge that you understand that all previously made reports will be out of date and that current data and charts will change. We suggest generating a new report to ensure you have the most accurate data available.
Discard Backdated Data
Please review carefully before making your selection to discard backdated data. Any data that is discarded will not be saved and will be lost.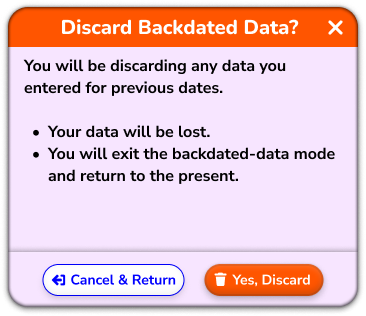 ---
Are there other ways fastIEP helps me maintain an effective progress monitoring system?
Yes, fastIEP will send you an email to remind you that you have "unsaved" data and the backdated data module remains open.
You will receive an email to prompt you to return to your fastIEP account and save your work or discard it if needed. Any unsaved data will be erased after 3 days of no activity.
---
We hope you love the new functionality in fastIEP! As always, we would love your feedback -- reach out to us at support@fastIEP.com anytime.