Do you have previous data that you are trying to merge with your current data in fastIEP?
Well, great news...the ability to enter backdated data into fastIEP is here!
---
How do I enter my previously collected data?

Similar to entering data points in the present, after selecting your student, select the blue "backdate data" button. Before proceeding, confirm you would like to enter backdated data. Now you are ready to select the date(s) for the previous data, select the goal tile(s), and enter your event(s).
Here's a list of the detailed steps and an explanation of the screen notifications you will see:
1. First, click on the blue "backdate data" button.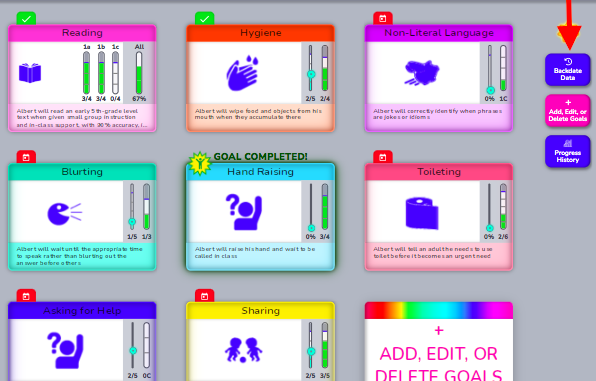 2. Next, select the orange "Proceed" button to continue. If you would like to exit the backdating data screen, click "Cancel".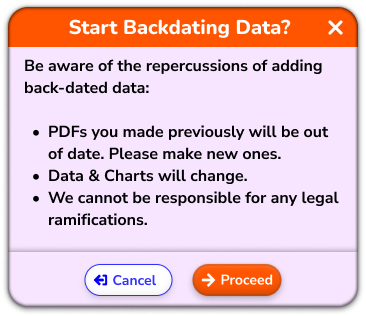 3. You'll notice a different look on your screen when entering data in the backdating mode...your screen will have an orange border around the goal tiles. This will help you visually notice if you are on the right screen.
Next, select the correct date(s) and add data points from the same day or from different days. After you finish selecting "Yes" or "No", you will have the ability to select a different date and add more data points.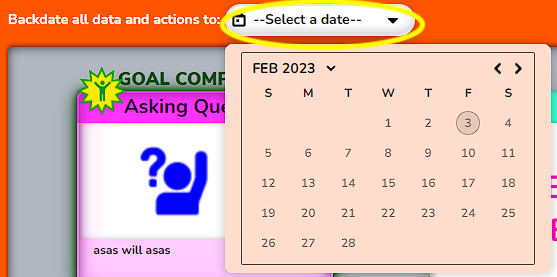 With each event entered, all metadata (time, notes, and name of person who entered the data) will be automatically added to the "All Events" chart on your Data and Charts screen.
4. After you have selected the date(s), click on the goal tile and add your data points. All features that are available with adding data points in the present time are also available with backdated data...annotations, selecting student day, and even, ending observations. If you are entering data points that now need to be grouped together into the observation period, click on the "end observation" button below the goal tile.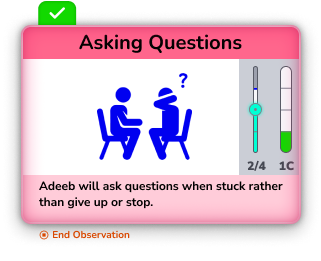 5. Last, click on the blue "Save Backdated Data and Exit" button. fastIEP will notify you how many backdated events are pending to be saved, as shown in the image below next to the yellow star.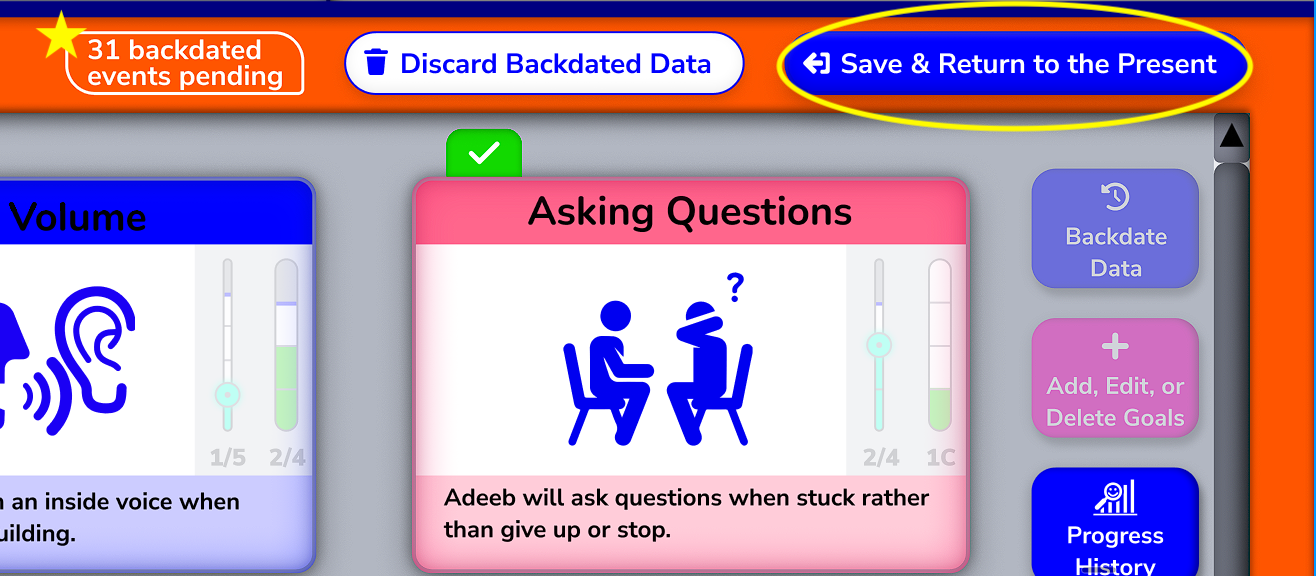 --If you need to discard the backdated data, click on the white "discard backdated data" button.
To continue deleting the unsaved data, click on the orange "Yes, Discard" button.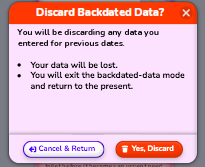 Click on the white "Cancel & Return" to return to your backdated data.
6. After saving all the backdated events, you will see a confirmation and will be returned to the present time.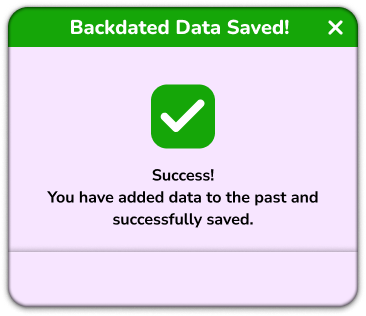 All reports will now include all your data (backdated data and present data) with up-to-date charts and progress indicators, including your auto-generated description of progress.
---
Important tips to remember:
* Backdated data can only be added to an in-progress/current IEP. Any IEPs/ARDs from previous years will not have the option.
* Don't forget to end backdating before you start entering current data!
* All previously generated reports for the current IEP will now have an inaccurate measure of student progress. Please disregard those reports and generate a new one for your records after you have entered backdated data.
* If the student is shared with other instructors, related services professionals, or paraprofessionals, only one user account will be allowed to enter backdated data at a time. If this occurs, fastIEP will notify you that the student you have selected is currently in "backdating data" mode on another user's account.
We hope you love the new functionality in fastIEP! As always, we would love your feedback -- reach out to us at support@fastIEP.com anytime.