Here are some exciting updates you will now see in fastIEP!
Thank you for all the valuable feedback provided regarding our Data and Charts tab. We are always looking for ways to improve your experience with fastIEP!
fastIEP has added an "All IEP Goals Performance History' table located directly below the "All Events" table with many features that aim to easily provide you with a quick view of student progress during each ended observation period.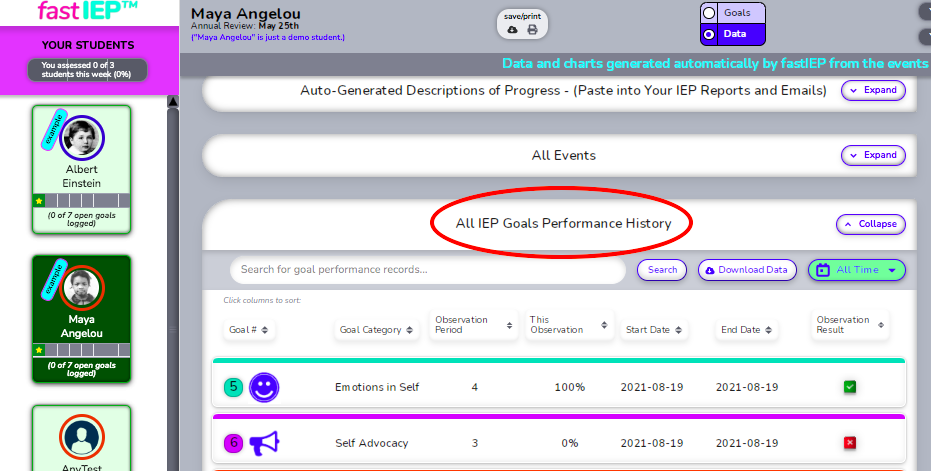 ---
At a quick glance, you will be provided with quantitative data from all ended observation periods. The table can be sorted to best meet your needs by goal number, goal categories, etc., and can also be exported into a PDF.
In the table below, row 1 of the table shows the performance summary calculated during observation period #4, which was completed on 2021-08-19.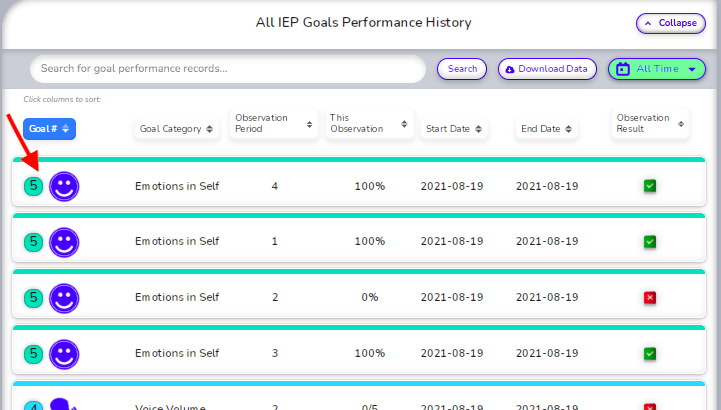 During this observation, the student demonstrated 100% accuracy toward their behavior goal.
Remember, there is no need for any additional calculating on your end; fastIEP has taken care of everything! If you would like to see the current summary of how the student is doing towards meeting a goal, you can easily attain that information in the "Auto-Generated Description of Progress" section of the student's Data and Charts tab.
---
Key Features:
Search: narrow down your search for events by goal category with a few keywords
Download Data: create a PDF report of the table that can be easily printed
Collapse: collapse and expand the table
Date Range Filter: view the information of a custom date range or of all time
Click columns to sort: easily manipulate and sort the table by any of the headings in the blue circle below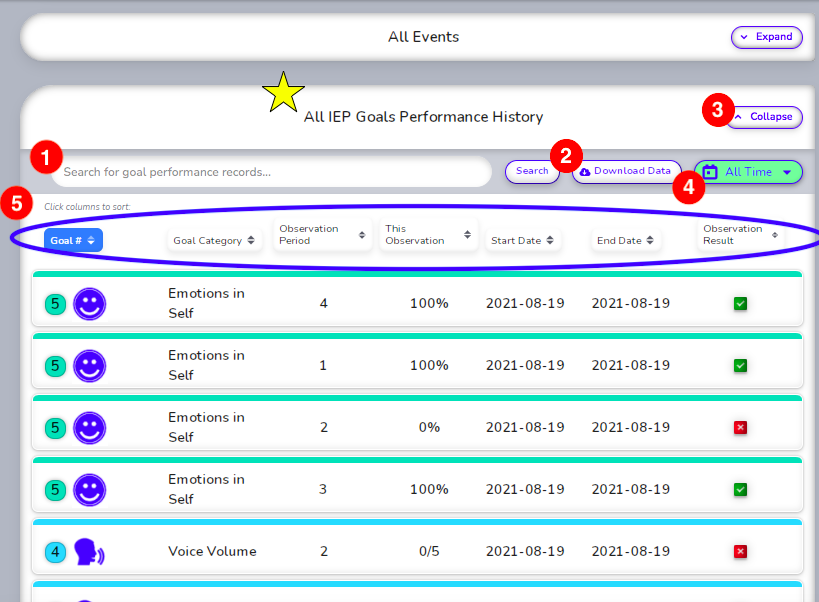 ---
Teacher Time-Saving Ideas:
-At the end of each IEP reporting period, download an "All IEP Goals Performance History" and upload the report into your IEP software. Although their overall goal progress will be indicated in the IEP Progress Report, this report will provide a more detailed explanation that might come in handy for a re-evaluation meeting.
-Forgot whether you collected data on the necessary observation periods that are outlined in the student's IEP? Sort your table with a customizable date range to confirm whether all events have been recorded.
-Easily share a weekly report with parents and the student.
---
Have questions? Email us at support@fastIEP.com -- we're here to help!